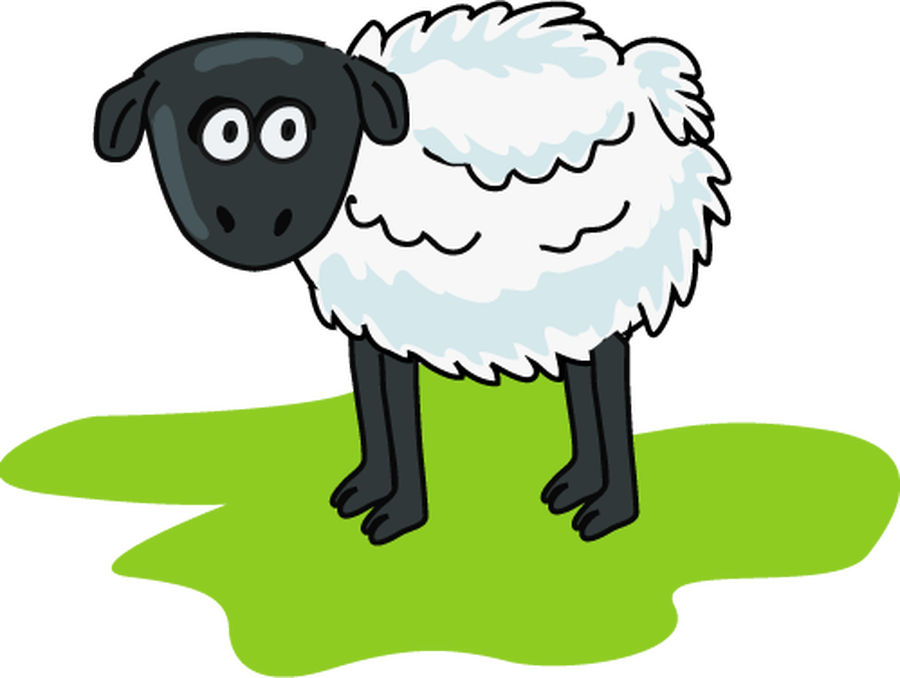 Click here to try
Take a photo of your family playing the quiz and you will win 3 dojo points.
***3 bonus points for the funniest photos.***
NEWS
WORLD BOOK DAY 2020
Our pupils didn't disappoint when they arrived at school dressed ready for World Book Day. View the album of photos here. The children read and discussed their favourite books and engaged in writing tasks covering a variety of genres, based on a video of a dragon.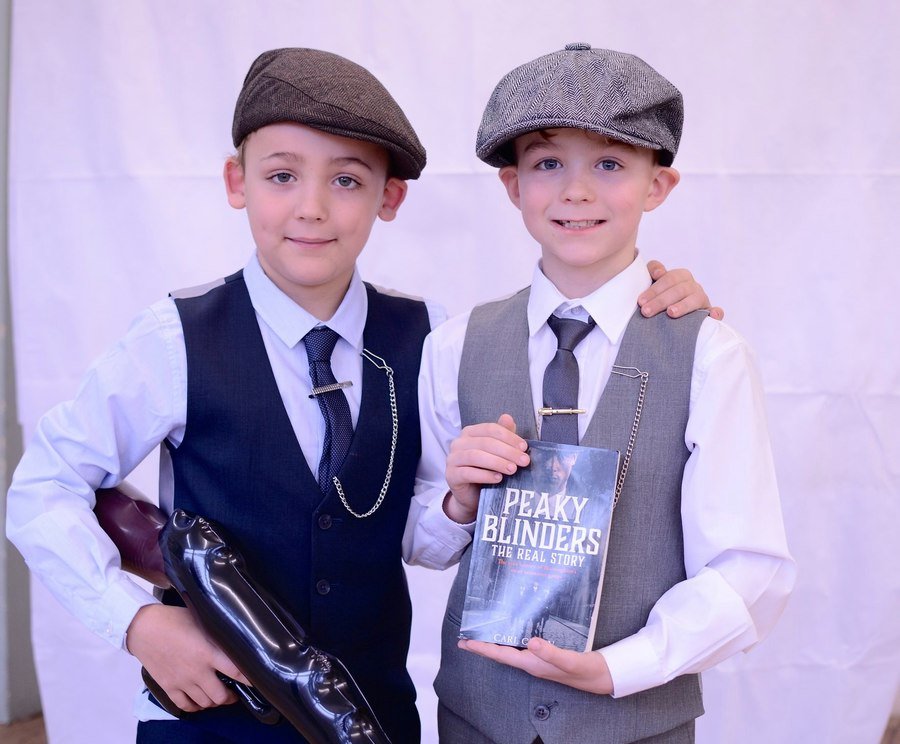 YEAR FIVE AT QEGS
On Wednesday. year five worked alongside one of Queen Elizabeth Grammar Schools art teachers and learned some printing techniques and skills. They designed and printed Grecian vases using a polystyrene block. This was also a fantastic opportunity for our children to experience a lesson at a senior school. They had a fantastic afternoon. Thank you to Mrs Brinsley and QEGS for making today possible.
INTER SCHOOLS CROSS COUNTRY COMPETITION
Twenty children from years 2-6 represented our school at an inter school cross country competition, held at William Lovell School, Stickney, yesterday. Most schools from the local area participated in this annual competition. Our teams competed in the small schools section, gaining second place in both the girls and boys races. GF (year 4) received a 3rd place medal in his race.
ITALY SKI TRIP
Seventeen children and four adults left Luton airport on the 6.30a.m. flight to Turin on Saturday 1st February. They were heading for the snowy slopes of the N Italian Alps where they would be staying for a week. The group will enjoy four hours of skiing tuition per day and the best of Italian hospitality. Follow their adventures on our Facebook page. If you would like your child to be part of this wonderful experience next year, please get in touch.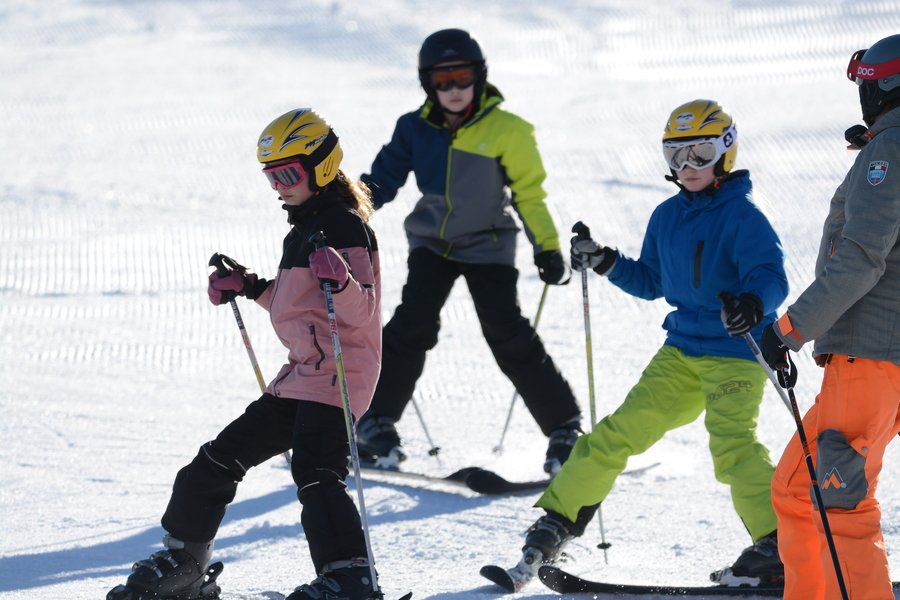 BOSTON SCHOOLS CROSS COUNTRY COMPETITION
On Saturday, pupils from Boston primary schools gathered at Boston High School to participate in the annual cross country event. It had been postponed before Christmas due to incredibly wet conditions, but today, although cold, the grass was perfect!
It was great to see SGPS accomplished runners alongside newcomers. One of our leavers (July 19) was one of the hares today and gave great encouragement to one of our girls on the final stretch by running alongside her.
A special mention must go to HB (year 2) who ran alongside boys from year 6 and finished a very impressive 20th!
Thank you to all of the families who turned out today, to Sarah Whelbourn for her organisation of the event and to Boston High School.
***UPDATE*** We have just heard that the SGPS girls' team tied for 3rd place with Sibsey B team. Well done girls! ***
FRIENDLY FOOTBALL TOURNAMENT
Nine of our pupils aged 9 and under played against other independent schools in a friendly tournament at St Hugh's School, Woodhall Spa.
Although scores were not recorded, I'm delighted to report that our boys played five matches and won four of them - see below.
For some of our year three pupils this was their very first taste of competition against other schools. For other children, it was great to see great teamwork and directional skills emerging.
Thank you to St Hugh's for a wonderful afternoon of sport and to our loyal army of travelling supporters.
St George's Prep v Grantham Prep 4-0 win
St George's Prep v St Martin's 4 - 0 win
St George's Prep v St Hugh's A 2 - 0 win
St George's Prep v Highfields 0 - 2 loss
St George's Prep v St Hugh's B 6 - 0 win
Click here to see more photos from this event.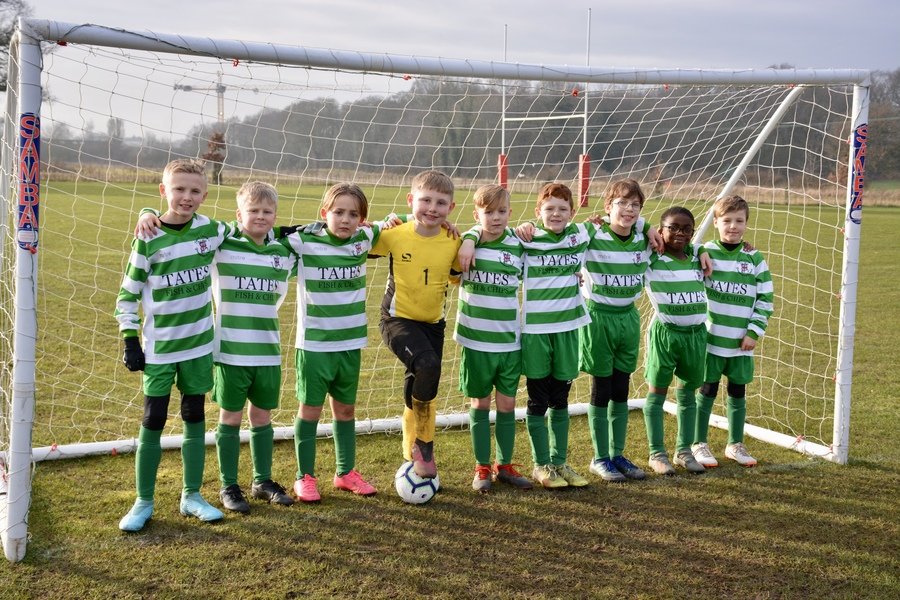 ITALY, HERE WE COME!
Seventeen pupils, three staff members and a tour rep will fly out to Northern Italy in a fortnight's time. The group is St George's largest ski party to date. Some of these children will be visiting for the third time! The children will enjoy four hours of ski tuition each day, plus evening entertainment and the very best of Italian hospitality. The children are modelling the hoodies that they will wear at the airport and at dinner times in the hotel. Watch our Facebook page for up to date information whilst we are away.
SANTA VISITS ST GEORGE'S PREP
The final day of the Autumn Term is a day that the children will certainly remember. It began with party games, followed by a visit to see Santa Claus. The children devoured a delicious party lunch before boarding coaches to watch the pantomime at Blackfriars Theatre. A fantastic day for everyone. Happy Christmas!
LITTLE DRAGONS LOOK AFTER THE ENVIRONMENT
Last week, Little Dragons visited our local park and were horrified at the amount of litter that they found there. They set to work with litter grabbers and picked two whole sackfuls before returning to school for a well earned lunch. Well done Little Dragons!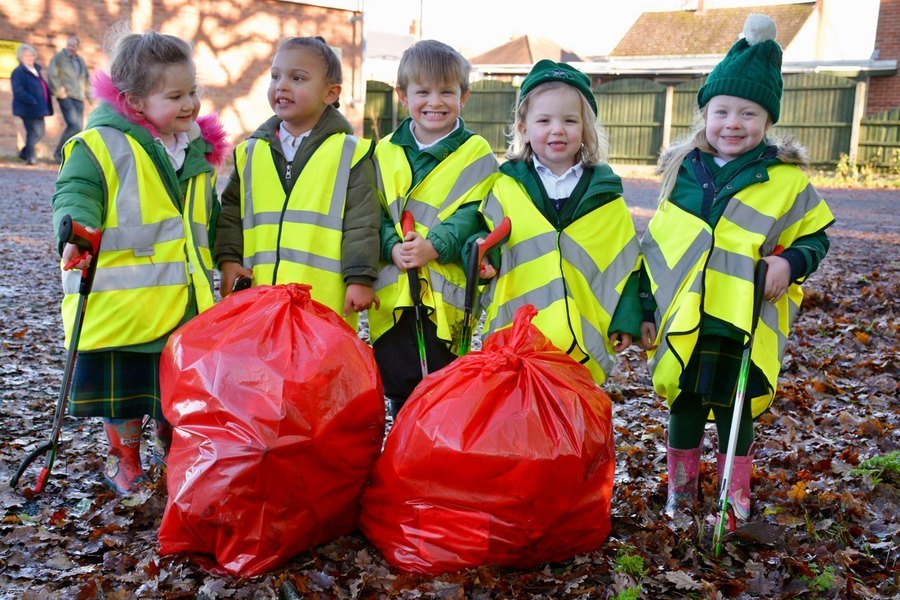 LOWER SCHOOL NATIVITY
This year, Miss Wicks wrote a traditional Nativity, which was all in rhyme, for our younger children (aged 3-7 years) to perform. The children delighted the packed hall with their songs and dances, whilst retelling the Christmas story. At the end, the parents were invited to join in and dance to one of the songs. You can find the album of photos and the video of the parents dancing on our school Facebook page - search for media on 4th December on our Facebook page.
SWIMMING GALA AT ST HUGH'S
On Friday afternoon (29th November), swimmers from KS2 competed in a friendly gala at St Hugh's School, Woodhall Spa. Our team competed against St Hugh's A and B teams and a team from Greenwich House.
With two of our older swimmers absent due to illness, some of the younger children volunteered to 'swim up' an age group or two. Some pupils were swimming competitively for the first time, some were nervous and others had the benefit of experience, however, everyone swam with determination and to the best of their ability.
There were so many reasons to celebrate - children swimming a least favourite stroke, those who were nervous and overcame their anxiety, those who swam and made up a huge distance for their team. However, a special mention must go to GS (year 4) who swam in not only his own races, but those of the absent year 6 child. When he climbed out of the pool, he ensured that he gave encouragement to the team member who was about to compete next. Well done everyone, three dojo points have been added to your accounts!
Thank you to the sports staff at St Hugh's for a very enjoyable afternoon and thanks also to our loyal band of parents for their support.
PLANTING HYACINTH BULBS
Some of the children from Willow Class helped Mr Dunmore to plant lots of hyacinth bulbs. They will look and smell beautiful in the springtime.
CHILDREN IN NEED
Pudsey Bear ears were worn on 15th November to support Children in Need. See our Facebook page for lots more photos.
CHRISTMAS IN NOVEMBER!
The PTA have generously donated a variety of items to the school. These include:
playground equipment and picnic bench
armchairs for library
stools and a mobile easel for the atelier
maths textbooks
overhead projector
CD players
2D and 3D shapes, dice, HTO blocks
rock samples
funnels, measuring cylinders, digital scales
magnets
Thank you so much; the children and staff really appreciate your generosity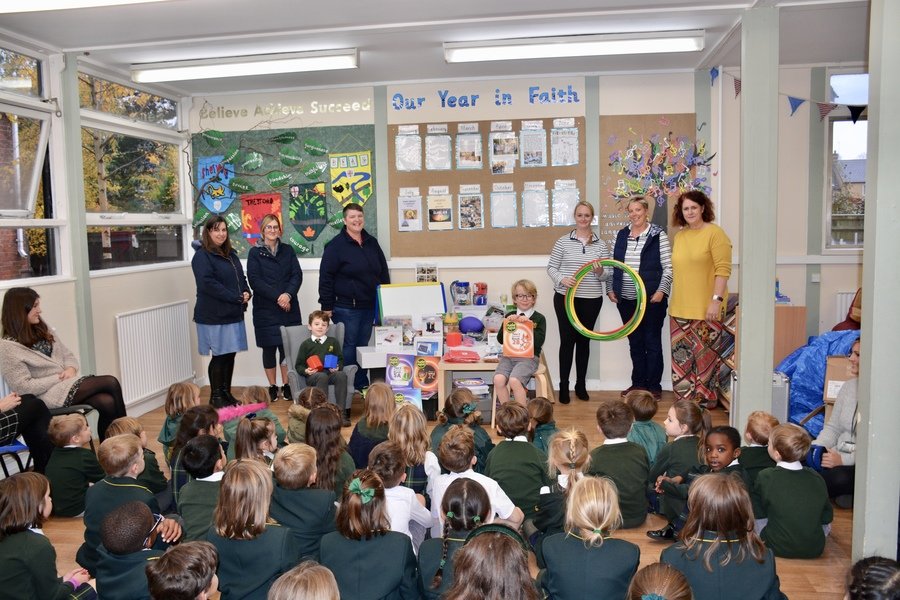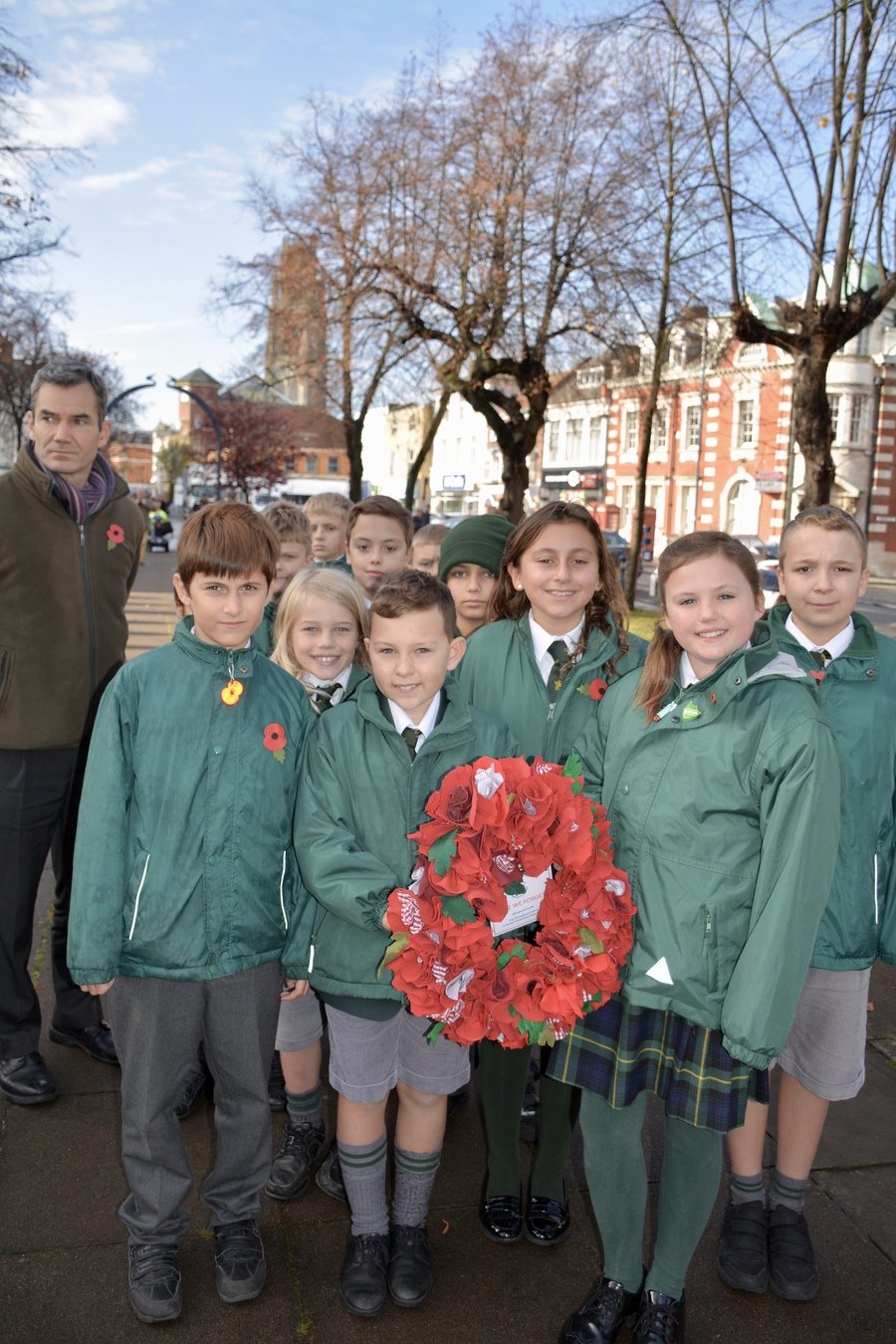 WE WILL REMEMBER THEM...
Year 6 attended the Opening of the Garden of Remembrance yesterday (8th November). This is a short service, attended by local schools; it has a firm place in our school calendar. The Head Boy and Head Girl placed a wreath (made by the children) at the Cenotaph. In school, the children have written a collaborative poem based on W.H. Auden's poem.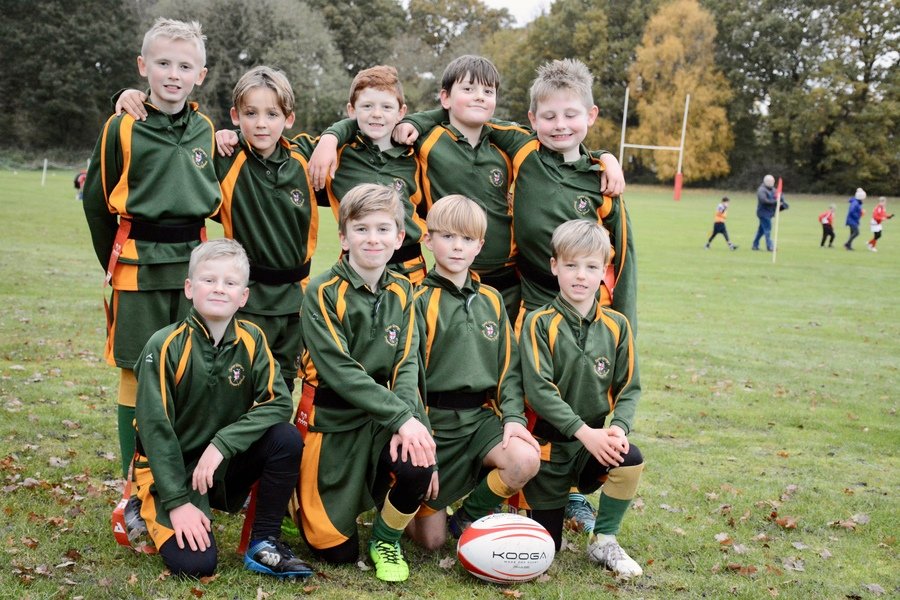 U9s TAG RUGBY FESTIVAL
On Wednesday 6th November a team of boys travelled to St Hugh's School at Woodhall Spa to play in a festival against teams from other local Independent Schools. The boys played together well, with some superb passing and agile dodging. LS was unlucky to be disallowed a try when he dropped the ball on the try line. The matches weren't officially scored, but we're pleased to announce that we won 4 and drew 2 games. Well done boys! If you would like to see more of the match day photos, please click here.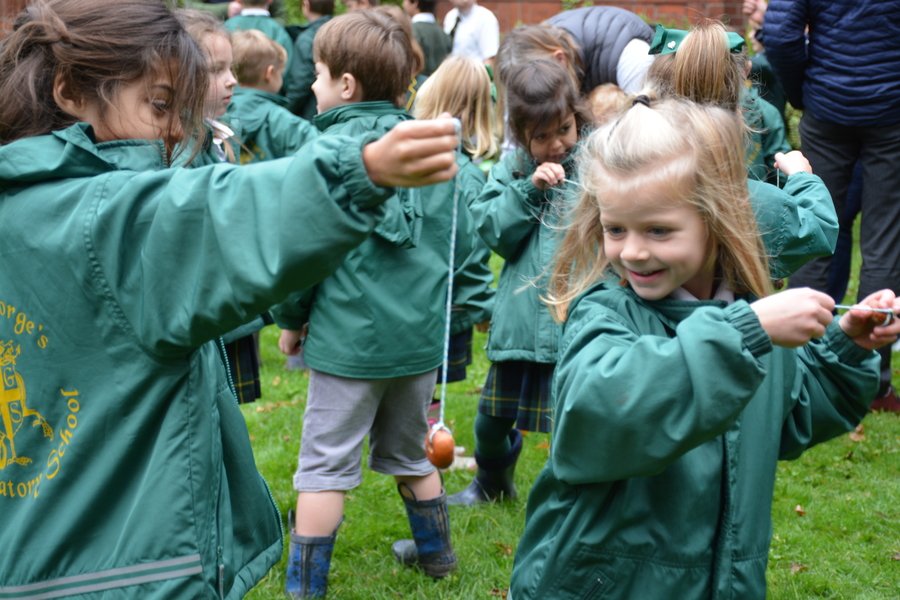 BONKERS FOR CONKERS
On Friday 18th October, the whole school gathered on the lawn to play in our annual conker competition. There were no safety goggles or gloves in sight! Parents and staff joined in the fun and the pockets in our new blazers provided the perfect keeping place for spare conkers! Everyone had lots of fun and the relaxing afternoon led happily into the start of the half term holiday!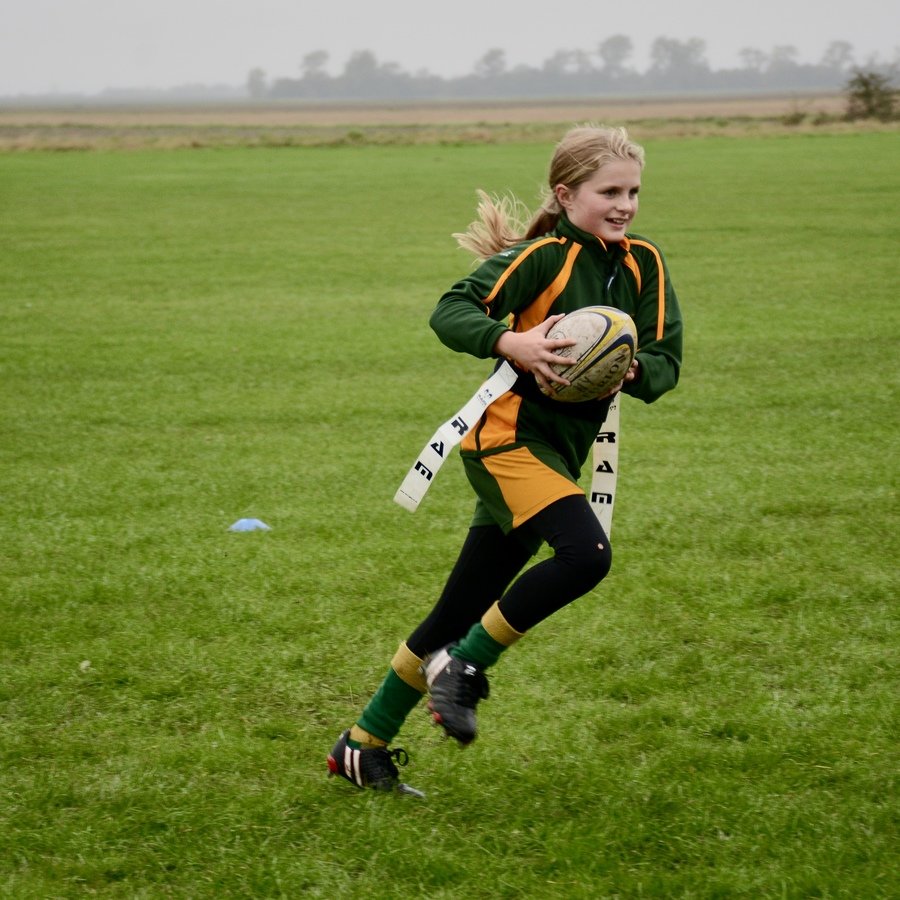 NEW BLAZERS ARRIVE
CL (Year 6) models our stylish new blazers. At the moment, the blazer is an optional uniform item, however, they become compulsory for Key Stage 2 (years 3-6) from September 2020.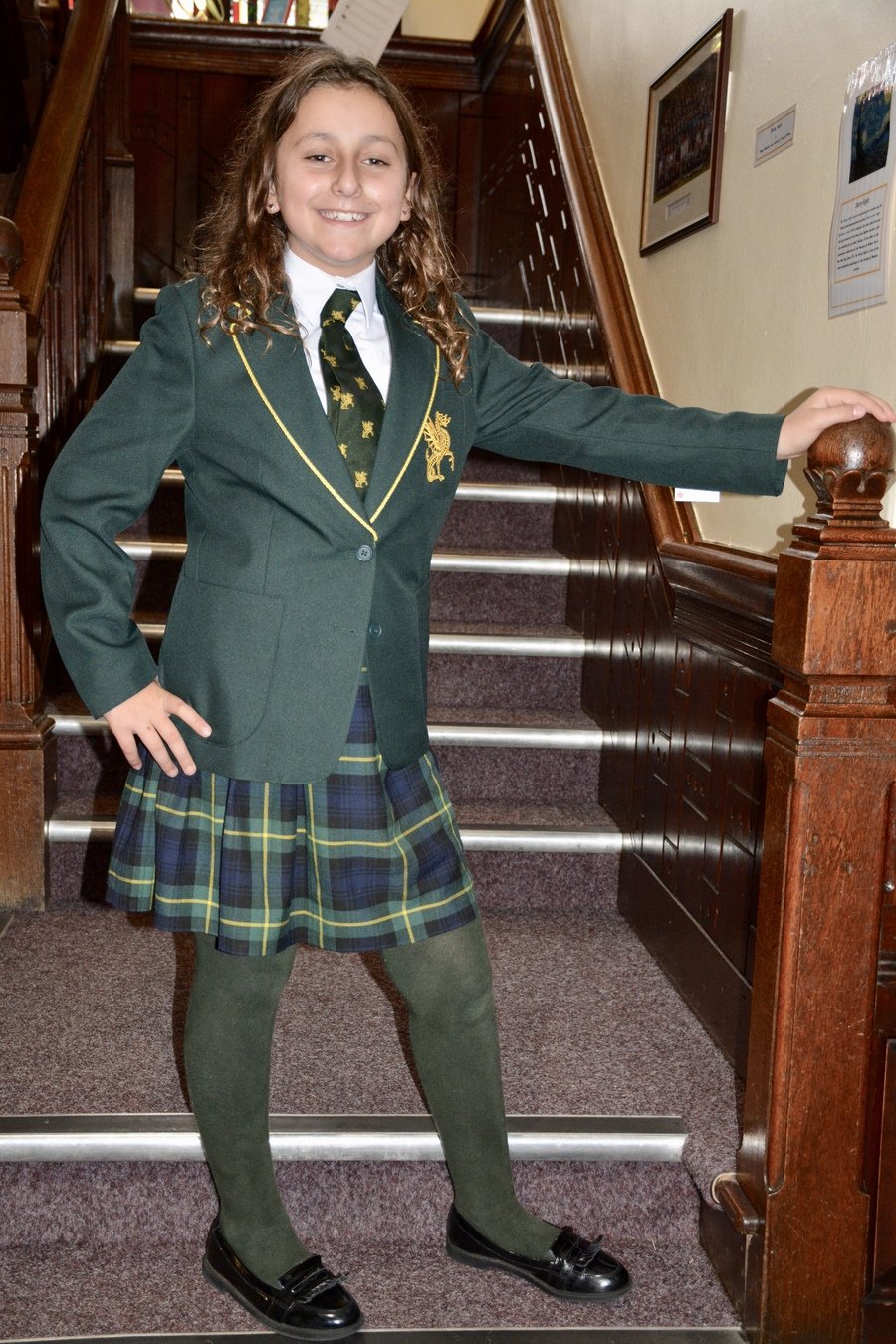 WORLD MENTAL HEALTH DAY
On Thursday 10th October, we celebrated World Mental Health Day by wearing something yellow. The children learned about the importance of mental health and participated in workshops such a yoga and mindfulness. To view the photos, click here.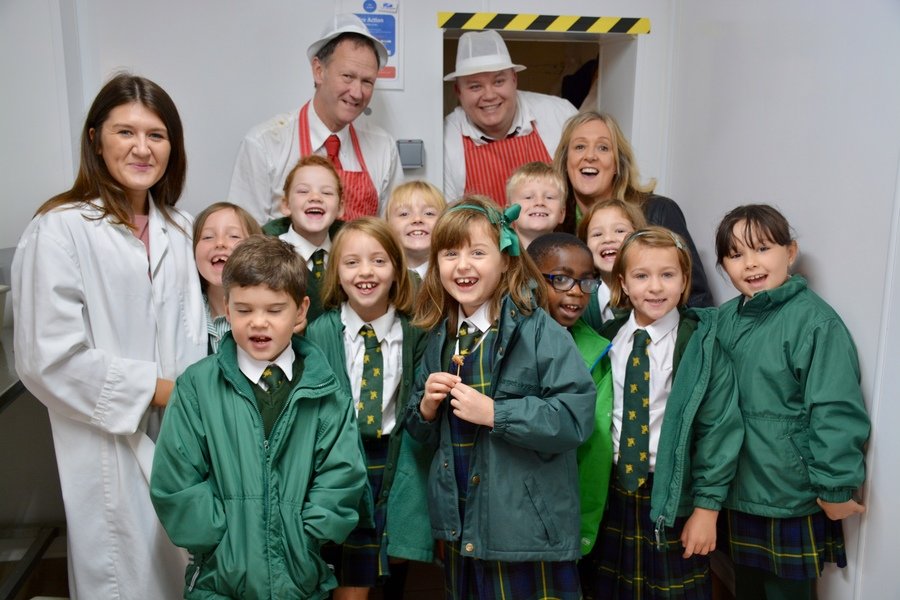 .LINCOLNSHIRE DAY - 30th September
We are known as the county with 'big skies.' However, we're famous for much more than this, so today, on our special day, we celebrated the best of our county in style!
Who hasn't heard of our yummy Lincolnshire sausage? Years 2, 3 and 4 visited Carl Dunham's butchers to find out how sausages are made. Our very own Miss Dunham (Carl's daughter) came along too and explained the process to our children. Every child made sausages and took them home for tea. They ended their visit by tasting cooked sausages. What a super visit!
Three very kind parents delivered tractors to school so that the children could climb aboard and find out about tractors old and new.
The older children made a casserole using the finest Lincolnshire vegetables. They also made Lincolnshire plum bread. Mrs Bray served up Lincolnshire sausages and vegetables for lunch.
CLASS DOJO
We have introduced a new reward system to replace Smart Points in school. We are using the Class Dojo app. Each child has taken home the details so that their parent/s can log in and register to receive instant notification when their child receives a Dojo point Points are awarded for a variety of reasons such as working hard, being kind and helping others - values which we hold high at our school. Each child has a different avatar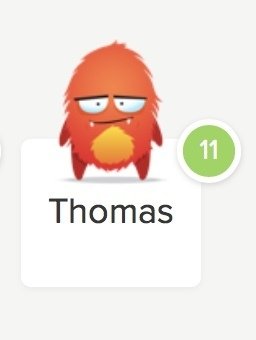 and the teacher clicks on the appropriate reward. Parents can also use the app as a means to contact their child's teacher. Staff only reply during school hours. For all other enquiries, parents should use the established means of communication.
Read our latest newsletter here.
AFTERNOON TEA WITH MR MAYOR
Some of our litter pickers were invited to share afternoon tea with the Mayor today as a thank you for helping to keep the local community clean and tidy. See the photos here.
SMALL SCHOOLS SWIMMING GALA CHAMPIONS
Today, we reclaimed the Boston Small Schools Swimming Cup as we won this category in the annual swimming gala, held at the Geoff Moulder Pool training pool. Twelve of our KS2 swimmers competed against Wyberton Primary School and won every single race. Both teams showed true competitive spirit and there were some very close finishes! Well done to all who participated.
STEM CHALLENGE AT BOSTON HIGH SCHOOL
Four girls from year four were invited to take part in a day of STEM (Science, technology, Engineering and Maths)challenges at Boston High School. They competed against girls from other local schools in a series of tasks including using materials to protect an egg, insulate an ice cube and to propel a vehicle.
Thank you to Boston High School for hosting our pupils and also to Miss Jeffery who accompanied the group.
"I learned that I could work as part of a team." AM
" I liked today because we got to work in a series of challenges and my favourite one was the egg - junction because we got to make a parachute. If we had to insulate the chocolate, next time I would use sponge, foam and tin foil." ST
"For lunch we had a lovely buffet." NJ
"My favourite activity was the parachute. I learned that you need sponge to insulate the chocolate." EN
Click here to view the album of photos on our Facebook page.
BOSTON BUOYS ART PROJECT
Year six have had an excellent morning working with Haven High Academy's year 11 GCSE art pupils on the Boston Buoys project.
Art teacher, Nicola Murphy made our staff and pupils feel very welcome and introduced us to artist, Jo Chapman who explained that she has been commissioned to produce two sculptures one at the Black Sluice on London Road and the other at the Bus Station Roundabout.
The theme of the sculptures is one of journeys and migration, with the buoys being relics of the sea. Jo told the children that they have their own story to tell of the ships that have passed, the seas and ports they have navigated. The buoy sculptures will be entwined with steel flotsam and jetsam and left in their natural state, The buoys will mark the significant part that Boston played in the Hanseatic League, trading with its Baltic partners.
Our pupils worked with Haven High Academy's students to produce miniature sculptures of flotsam and jetsam which will be used as inspiration by Jo as she pieces together the buoy sculpture, along with messages written by the children which will be incorporated too. It was great to see pupils from both schools interacting and working together.
Thank you so much to everyone who made today possible. Our children have had a wonderful and memorable experience. Click here to take you to the Facebook album.
KEY STAGE 2 CHRISTMAS TALENT SHOW
This year, instead of our usual Christmas play or pantomime, we decided that Key Stage 2 should stage a talent show. Children from years 3-6 worked together on a variety of acts - singing, dancing, telling jokes, playing instruments, etc. On Thursday 5th December, the children took to the stage and gave outstanding performances, along with a liberal sprinkling of Christmas carols. The evening was a great success! There are lots of photos and videos on our Facebook page.
CHRISTMAS ENTERPRISE MARKET
On Friday (22nd Nov) morning, parents and friends of the school attended our annual Enterprise Morning. The children had been busy making crafts and organising Christmas games which were sold to our visitors. Each class is allowed to keep the money that they make and to decide how it is spent. Over £690 was raised by our entrepreneurial children!
YEAR 2 VISIT
Chestnut Class visited the Emergency Services Museum in Sheffield to reinforce and extend their learning in this area.
YEAR SIX AT BURGHLEY HOUSE
Year 6 are studying the Tudors in their history work. To reinforce their learning, they visited Burghley House at Stamford and immersed themselves in the period. They played typical Tudor games, learned a Tudor dance and found out about Tudor banquets.
U9s HOCKEY FESTIVAL
What a difference a year makes! Last year when our girls were invited to take part in this festival, they tried hard, but were beaten by stronger sides. This year they returned, with determination to succeed. They played against teams from other local Independent Schools and secured a place in the final. With great team work and digging deep to make tired legs work even harder, the girls were victorious. Well done girls! A special mention to MM (year 3) who stepped into the team with minutes to spare! You can see additional photos here.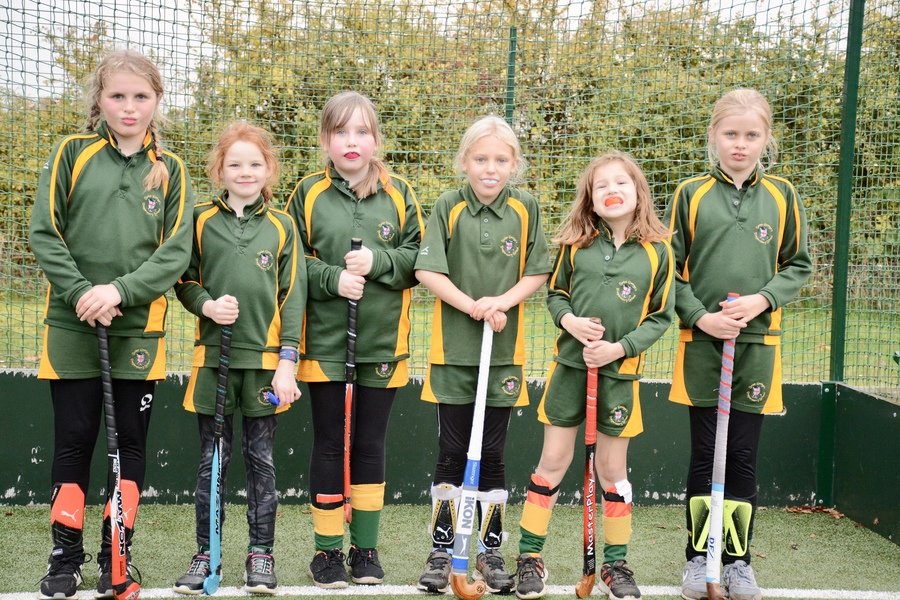 THE SCHOOL OF ROCK
We will probably remember this visit on Thursday 17th October as the trip that nearly didn't happen! Early in the morning, a water main burst in the middle of town, so by the time that our children were travelling towards school, full of anticipation about the day ahead, the town suddenly ground to a halt. No traffic and no one was going anywhere!
Registers were taken at school and it was clear that many children still hadn't arrived. Worse still, the coach company had no idea about the time that transport would arrive. We were given an absolute cut-off time of 10.30a.m. before we would be faced with a harsh decision to announce.
Luckily at 10.30 the coaches drew up, children and parents boarded hastily and we were eventually London-bound. We were unable to stop en-route and arrived in London with twenty minutes to spare.
The show was an amazing experience for everyone. The children sat spell-bound as the actors and actresses captivated them with their rock songs and musical skills.
Thank you do much to Mrs Jackson for organising a wonderful day - one which will be remembered for a long time to come.
TAG RUGBY TOURNAMENT
On Wednesday 16th October, a team of girls and boys from years 5 and 6 played pupils from other local small schools.
Our pupils played incredibly well and started to gel as a team as the competition progressed. The team showed determination as well as speed and agility. Unfortunately on this occasion they didn't win, but have learned much from the experience which they will take forward into their next matches.
HARVEST FESTIVAL
Our annual Harvest Festival took place on Friday 11th October. The children have been busy making scarecrows from recyclable materials as part of this term's homework. The service began with a parade of scarecrows, followed by fantastic singing of a mixture of traditional and modern songs, plus recitals of poetry.
The generous donations of fresh, local produce and tins and packets was gratefully received by Mr Trevor Baily from the Boston Food Bank.
See the photos here.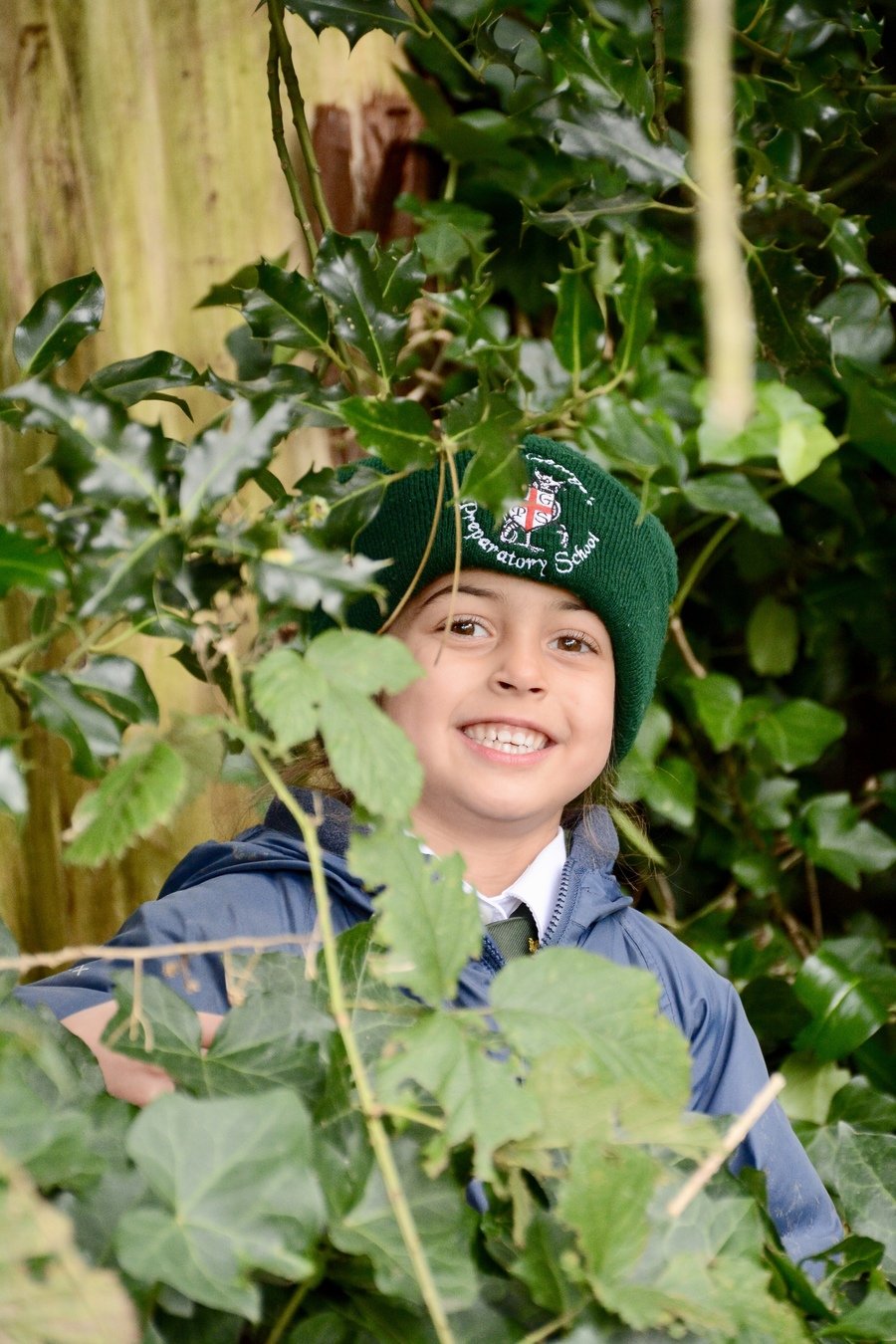 FOREST SCHOOL
Willow Class were enjoying their Forest School session in our woodland this week, when a little voice called out,
"Mrs Whelan, come and see my den."
I couldn't resist capturing this smiley face!
FIRST FOREST VISIT
Willow Class enjoyed their first Forest School session of the year this week. The new children are developing independence and starting to get used to the routines and rhythms of the school day.
IT'S A MYSTERY!
Who planted the sunflower seed on the school roof?
GOODBYE AND GOOD L:UCK
Wishing the class of 2019 lots of luck as they start at their new senior schools in the next few days. Let us know how you're getting on.
HUGE PLUM HARVEST
Key Stage 2 picked the plums from our trees and made a delicious plum cobbler.